Details
When: January 26th - 26th, 2023 @ 7pm
Where: 322 Williams Street
Cost: $1 per player
20230126 7:00pm
20230126
America/Chicago
Music Bingo- Club 400
https://www.downtownwaukesha.com/events/music-bingo-club-400-3/
322 Williams Street
Club 400 Bar & Grill | Waukesha WI | Facebook
Music bingo. Here's how it works:
1. Listen to the short clip of the song
2. If it's on your bingo card mark it off 3. 5 in a row, win a prize!
$1 to play and we play 3-4 rounds each night. It's every Thursday night at 7pm.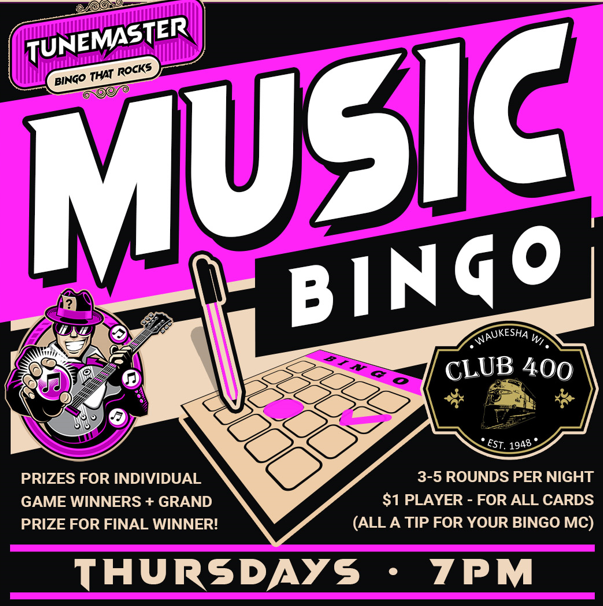 A few upcoming events...
12 Angry Men- Waukesha Civic Theatre
264 W Main Street
Adult: $30
Senior/Military: $27
Subscriber/Groups: $24
Under 18: $21
12 Angry Men – Waukesha Civic Theatre A 19-year-old man has just stood trial for the fatal stabbing...
Waukesha Farmers' Market
Waukesha State Bank employee parking lot
Waukesha Farmers Market – Saturdays May 4 – October 26 (waukeshadba.com) For over 20 years the Waukesha Farmers'...
Tailspin, Live Music- Nice Ash Cigar Bar
Calendar – Nice Ash Cigar Bar (theniceash.com) Kenosha Wisconsin's Premier adult contemporary music ensemble The Tailspin Band is...