Details
When: January 26th - 26th, 2023 @ 7pm
Where: 322 Williams Street
Cost: $1 per player
20230126 7:00pm
20230126
America/Chicago
Music Bingo- Club 400
https://www.downtownwaukesha.com/events/music-bingo-club-400-3/
322 Williams Street
Club 400 Bar & Grill | Waukesha WI | Facebook
Music bingo. Here's how it works:
1. Listen to the short clip of the song
2. If it's on your bingo card mark it off 3. 5 in a row, win a prize!
$1 to play and we play 3-4 rounds each night. It's every Thursday night at 7pm.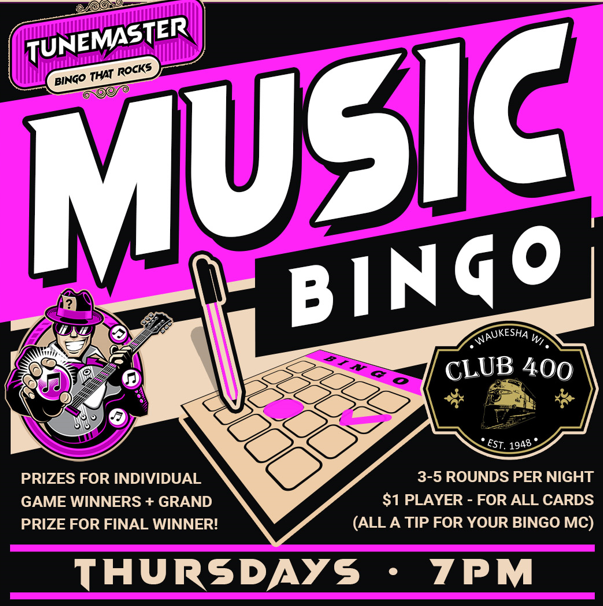 A few upcoming events...
Chris Krow, Live Music- Mainstream Bar & Grill
Live Music | mainstream-2 (mainstreambarandgrill.com)
Waukesha Winter Farmers' Market- Martha Merrell's
Waukesha Winter Farmer's Market | Waukesha WI | Facebook Waukesha Winter Farmers' Market inside Martha Merrell's Books &...
The Marketplace- Chef Pam's Kitchen
Marketplace (chefpamskitchen.com) Chef Pam has 4 commercial kitchens in her venue that are utilized by over 25 artisans....