Details
When: May 29th - 29th, 2023 @ 10:15am
Where: Downtown Waukesha
20230529 10:15am
20230529
America/Chicago
Memorial Day Parade
https://www.downtownwaukesha.com/events/memorial-day-parade-2/
Downtown Waukesha
Memorial Day (waukesha-wi.gov)
Order of Events
Riverside Service (9:00 a.m.)
A river service will take place at the Barstow Plaza, 141 N.W. Barstow Street, at 9:00 a.m. We welcome all to gather together and cast flowers into the river in tribute to those who made the ultimate sacrifice.
Parade (10:15 a.m.)
All veterans who served in the active military, naval, or air service and were discharged or released under conditions other than dishonorable are invited to march together in an act of unity for the City of Waukesha Memorial Day Parade on Monday, May 29, 2023. The parade will step off from the Lee Sherman Dreyfus State Office Building, 141 NW Barstow Street, and proceeds down Main Street to Maple Avenue before ending at Park Avenue. Veterans are asked to arrive no later than 10:00 a.m. in the parking lot of the State Office Building. The parade route can be found below.

Questions may be directed to Pat Craney, President, Waukesha Allied Veterans, at pcraney@cmrxray.us.com or 1-262-970-7770.
Memorial Day Service at Cutler Park (11:00 a.m.)
Please join us for a program honoring all who have died and served our country. Speakers will include the honorable mayor, Shawn Reilly, and keynote speaker, Daniel Buttery, president and CEO of the War Memorial Center, Milwaukee. The Waukesha Civic Band will perform the National Emblem March.
New Parade Route
As the City of Waukesha prepares for upcoming events, safety protocols and procedures for all events continue to be reviewed. In 2023, there will be a new parade route in effect for all parades. The City will continue to establish a secure perimeter along the route with parking restrictions in place along the parade route. As each parade approaches, the City will communicate to the public the times the perimeter will be in effect.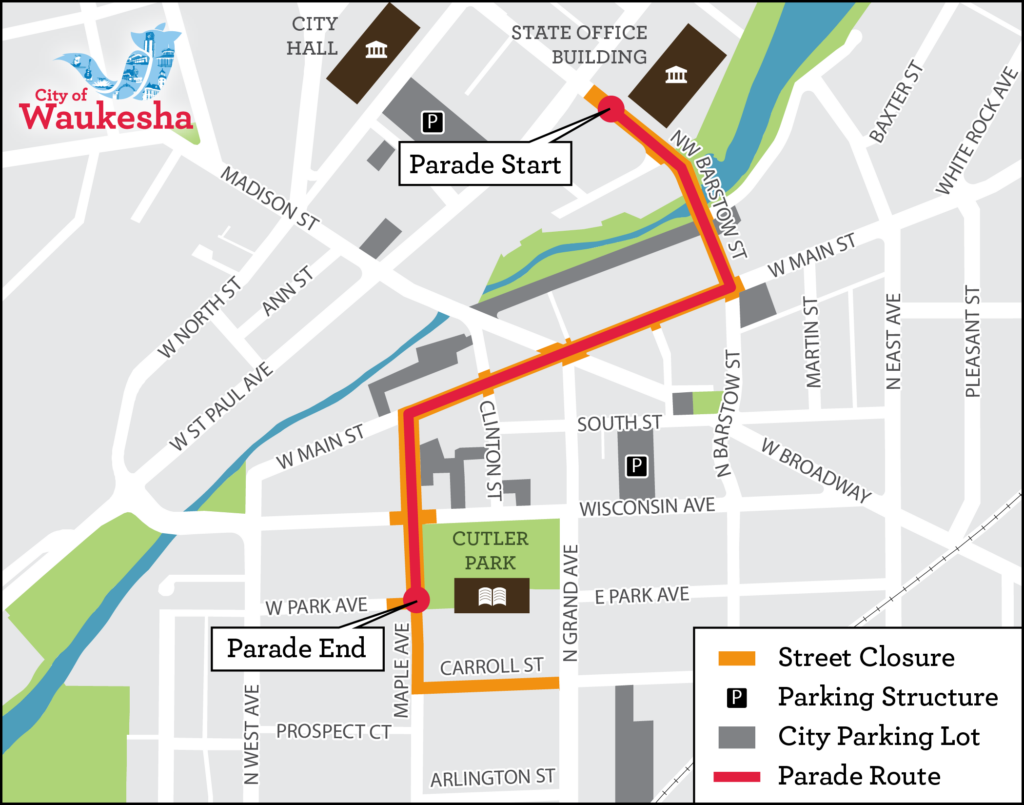 A few upcoming events...
Springtime in France, French Wine Tasting- Crush Wine Bar
378 W Main Street
$20 to taste
Free for Club Members
Springtime in France- French Wine Tasting & wine club-Waukesha | crush wine bar (crushwaukesha.com) Ah, springtime in France!...
Friday Night Live
Friday Night Live in Downtown Waukesha (waukeshadba.com) The Friday Night Live outdoor music event takes place every summer...
Waukesha Farmers' Market
Waukesha State Bank employee parking lot
Waukesha Farmers Market – Saturdays May 4 – October 26 (waukeshadba.com) For over 20 years the Waukesha Farmers'...